Does your kid like to move, wiggle, jump, and run around? #Christmas and New Year holidays are around the corner, so it's time to consider this fact when picking an ideal present for them. Of course, you can simply buy them Christmas gifts that will enhance their experience and detach them from the video game screen.
This doesn't have to be expensive, extravagant, or overly complicated. Fortunately, there is a range of toys that you can afford, and that can be equally enjoyable and educational. For this reason, you should always imagine a number of activities that can include the chosen toy or set of toys. Continue reading to find out more about the top 7 Christmas gifts ideas for 2022.
What Should I Buy for my Children as Christmas Gifts?
Obvious answers to this question would involve candy, sweets, warm socks, and seasonal sweaters. This isn't really what kids are all about when it comes to the Christmas holidays.
Yup, they'll be thrilled about the Christmas tree decor, and lights, fireworks, and other aspects of the festivity. However, younger kids will especially enjoy seeing what Santa brought them. After all, they haven't behaved well without a good reason in the past year, right?
First off, you should ask your kids a couple of questions, or just carefully observe their behaviour, their preferences, their everyday dynamic. If your kid is highly active, enjoys going outdoors, and is all about breaking physical limits, consider these all-time classics:
1. Basketball
This all-time classic can be customized with the colours of your kid's favourite team, or in his or her initials, or with Christmas decorations. Either way, there will be plenty of opportunities to use it around the house, at the basketball court, and elsewhere.
2. Bicycle or Tricycle
Turn this into a healthy habit early on, and make sure that your kids use it not only for fun but to become active participants in the traffic one day. This is also an excellent way to achieve extra velocity and explore new frontiers. Start with three wheels, proceed to two, and soon you'll be on a way to a family picnic at a nearby natural resort.
3. Badminton
Now, this one has been popular for several generations and will teach your child to move with nuance and grace. It doesn't only require speed, but precision and perceptiveness.
Recent studies have proven many merits of this sport for the development of fundamental movement skills in children. Equipment isn't that expensive, so you just need to have the right size of the backyard to try it out. Moreover, there's less risk of window damage with birdies (badminton balls) than with tennis balls.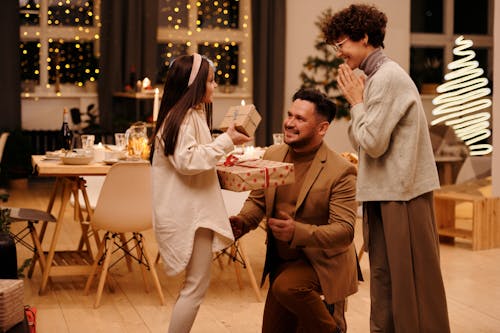 4. Trac-ball
Another truly popular option, especially when you want to include a couple of kids and other family members in play, is Trac Ball. This is great as it's beneficial for gross motor skills, plus your kid will be able to burn a lot of energy.
5. Laser tag
Why would your kids run around with sticks and slings, when you can buy them a laser tag set? Boys and girls love this game, and it can be truly great if you want to develop survival skills, team spirit, cooperation, and a competitive mindset.
6. Slackline
If your kids love to show off their balancing skills, they would be absolutely crazy about slackline. With the right attitude and persistence, slackline can be extremely fun for kids and teenagers of different physical dispositions and temperaments. It's also great for proper body posture.
7. Ninja line
If you wish to help your kid develop core strength and truly boost their self-esteem, buying a ninja line set is money well spent. It includes a slackline and a number of other accessories for added balancing tricks and feats.
Another option you may add on top of that is a membership plan for a local Uptown Jungle fun park like the one in Henderson where your kid can enjoy a variety of exciting amenities, including ninja courses, trampolines, slides, and other goodies throughout the year.
Conclusion
Pick some Christmas gifts for your kid that you know it will use throughout the year, that will engage his or her mind and body, and bring them closer to what they want to be in the future. Encourage them to find autonomy and joy in this.
If they do give up, however, don't fret – they will find something that will be even more rewarding for them. It only matters that you have shown you care. Stay in tune, for many many Holidays to come!
---