Selecting the right laminate flooring option for your home or office space can be hard. Unless you are aware of the facts and have the correct information, it is nearly impossible to select the ideal option. Whether you want to go mosaic floor tiles in Brampton, porcelain floor tiles in Brampton, or vinyl tile flooring Brampton, it all comes down to your space, budget, and lifestyle.
In recent years, laminate flooring has emerged as one of the most popular flooring options. However, there are a lot of myths about laminate flooring in the minds of customers.
Laminate flooring may not be suited at every place, but it is often considered the perfect option for many. In this blog, we will debunk some of the prevalent myths around laminate flooring.
Myth#1 – Laminate flooring is very expensive
The appearance of modern laminate flooring is quite identical to natural materials and allows people to develop the notion that they are very costly.
In fact, laminate is much more cost-effective in comparison to hardwood, and several varieties of porcelain floor tiles in Brampton. One cannot simply overlook the charm and durability of luxuriously-looking laminate flooring.
Laminate flooring offers ease of maintenance & durability, while its lucrative price makes it an ideal and affordable option to select for your home.
Myth#2 – Laminate flooring appears cheap and fake
One of the other prevalent myths about laminate flooring is that it looks like an imitation and fake. This myth might have been true a decade ago, but surely not today.
Major advancements in technology, digital imaging, and embossing process have made almost identical and resembling stone, ceramic tiles, hardwood, marble, or vinyl floors.
Laminate flooring today boasts several types of finishing, including a flat finish to a distressed look. With an array of top-notch styles, textures, patterns, and designs, laminate flooring's looks are anything but fake and cheap.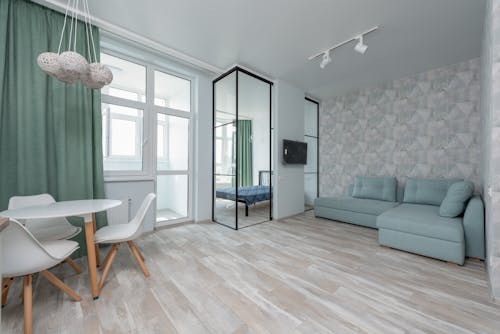 Myth#3 – Needs a specialist for installation
This is an archaic myth that holds minimal credibility in modern times. There are several DIY video tutorials and home improvement programs that demonstrate how to install laminate flooring.
Planks fall in place and do not come apart. Some planks do not even need glue to stick to the floor. Experts say that homeowners can put a new floor in a room over the weekend, and completely transform the way the room looks. You don't even need a specialist or expert and pay installation charges.
Myth#4 – Gets scratch marks easily
This myth doesn't get even an inch close to reality. Laminate flooring is among those very materials that are resistant to any physical dents or scratch marks.
The top layer of the laminate floor acts as a solid shield because of its hard nature and provides maximum protection. Laminate floors can withstand minor scratches.
But it is not completely indestructible. If you compare it with porcelain floor tiles in Brampton or vinyl floor tiles in Brampton, it fares much better against dents and scratches.
Over time, it may develop minor cracks or, dents, and must be replaced so that water does not enter and causes damage to the tiles.
Myth#5 – Laminate flooring is very hard to clean
Unlike mosaic floor tiles in Brampton, hardwood, or other flooring options, laminated surface ensures tight, smooth, and seamless flooring. This makes it very hard for dust particles to get caught in between the planks of flooring.
As a result, cleaning becomes very easy and quick. You can use regular cleaning equipment like a dust mop, vacuum, or moist cloth to clean the surface.
It is advised by professionals that the floor should be cleaned every few days to keep it looking at its best.
Myth#6 – Offers minimal durability
It is true that laminate floors might not be the best choice when it comes to water resistance, but saying that it is not durable will be a false claim. In fact, laminate flooring offers better scratch and dent protection than many hardwoods.
It consists of four different layers – the base, substrate, pattern, and wear layers. Over the years, there have been major advancements in the wear layer specifically.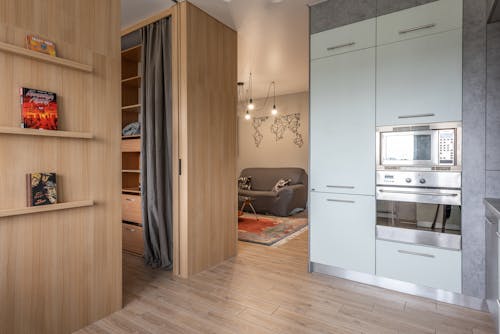 It has become of the most durable flooring options that can be considered. With proper maintenance, this multi-layer synthetic flooring can look beautiful for years to come.
Myth#7 – Repairing is very costly
As mentioned previously, laminate flooring comprises individuals planks that offer maximum durability. However, in case of damage, the repair costs of laminated surfaces fall within the affordable range.
It is a very simple, straightforward, and easy process. During instances of severe damage, the damaged planks of laminated flooring can be easily removed and replaced at low costs. During the initial purchase, it is recommended to stock some extra planks in case of any urgent replacement needs.
Myth#8 – Laminate is the same as luxury vinyl
Laminate vs vinyl flooring may be hard to distinguish from the naked eye, but they are very different beneath the top surface. The laminated flooring consists of 4 different layers – base, substrate, pattern, and wear layer.
On the other hand, luxury vinyl flooring has eight different layers and is more resilient than laminate planks. Luxury vinyl plank flooring has better water resistance. However, in areas where water incursion would be minimum (e.g., living room), laminae flooring remains a better option.
Get Professional Help and Inputs in Choosing the Right Flooring.
Talk to our flooring experts and explore our wide range of mosaic floor tiles in Brampton, Porcelain floor tiles in Brampton, and vinyl floor tiles in Brampton. We can assist you in selecting the right flooring options that suit your needs, taste, budget, and lifestyle.